Hilit Vainberger, Frenn – The Secret to Corporate Culture Growth
Hilit is someone I really like. She started Frenn to solve a problem that so many businesses face today! How to not only retain your employees, but give them that added value and understand how to develop the company culture. I believe Hilit brings a unique perspective to the business problem as she solves it based on her experiences and understands the value of getting it right.
As part of the Female Founders program we ran at StageOne, which has seen us meet over 90 female founders over the past two years, we decided to introduce you to some of the female founders we've met both from Israel and the US They operate in different industries and their startups are at different stages, but they all impressed us with their business, leadership, and drive. This program gives us the opportunity to stay in touch and maintain ongoing relationships with several of these founders. We can hear about their business growth, connect with relevant investors, help them when we can, and set up follow-up meetings to review their progress.
Hilit Vainberger of Frenn. Photo: PR
For this series, we spoke to 5 female founders and asked them what inspired them to start their business. We also discussed the challenges they faced as founders and, of course, their secrets to success.
Meet Hilit Vainberger, co-founder of Frenn.
Frenn was founded in 2021 by Hilit Vainberger and Guy Asherov who met through a mutual friend. The company is located in Tel Aviv.
Can you tell us a bit more about Frenn?
"Frenn is a talent relationship management platform (TRMP) for 'people obsessed' companies. Frenn uncovers high potential talent and helps managers develop high performing teams and strong leadership. Frennn provides talent health checks and increases talent density to stay ahead of today's workforce challenges.
What inspired you to develop your idea?
"Surprisingly (or not), Frenn began as a mentorship program for promoting diversity, following my experience as the 'only' female leader in my previous roles at high tech companies. I became obsessed with helping women realize their potential, get to the top, and throughout their careers. I'm always. As I learned about the challenges, I realized that I was facing a much more widespread problem, and the "new normal" affected companies struggling to prevent their employees from changing jobs and much more. »
What are some of the challenges you've faced (if any) in starting a business as a founder?
"Personally, I don't feel like I face many challenges as a female founder. On the contrary, I have met and spoken to so many phenomenal female founders, each more inspiring and eager to help than the other. Unfortunately, the statistics tell a different story, where established female CEOs and founders in high-tech companies (at least in Israel) make up less than 5% of the total founder/CEO population. I'm still trying to figure out how this really holds true.
What are the secrets of your success?
"One of the main secrets – not a big secret at all – is to create a win-win situation with everyone I work with: team members, peers, partners and investors. I sincerely believe this is the only "secret" of success.
What do you want to achieve next?
"I want to be the Salesforce of talent management. I believe this is the next big thing after sales and product-centric businesses. Now it's time to focus on the human factor: talent.
What are the qualities of a good entrepreneur?
"The ability to listen and agility. I can't even count how many times we changed our product, our target audience, our strategy and our GTM. I've even walked around to investors and prospects more than once, asking them to redo our pitch. This is primarily because I am constantly talking to our prospects, peers, investors, advisors, learning their opinions and finding the best market to solve our prospects' most critical pains and problems.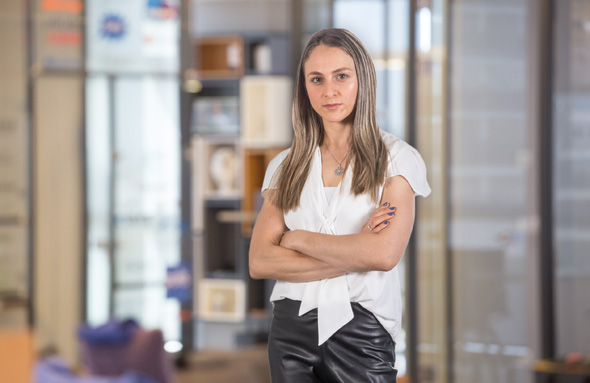 Yael Eckstein of Stage One Ventures. Photo: Dudi Moskovitz
Yael Eckstein, Marketing Director of StageOne, launched the Female Founders Office Hours program, in which StageOne Ventures continuously seeks to invest time and resources so that innovations get the support, networking and know-how they need to receive funding. The program involves a one-on-one meeting at our offices with partners and the fund management team, so that we can connect, hear the company talk and get actionable advice, consultation and networking.