Foster + Partners installs a demountable wooden structure in the former gasworks in Madrid
Foster + Partners reveals 'Ombú' renovation project in Madrid
Foster + Partners installed a removable framework structure within a disused gasworks in Madrid, Spain. Dubbed Ombú, the renovation project breathes new life into the historic brick 1905 building, adding over 10,000 m² of new office space for Spanish infrastructure and energy company ACCIONA. By selectively preserving original elements and incorporating new sustainable solutions, the adaptive renovation serves as a striking example
reusing buildings and revitalizing neighborhoods.
originally built in 1905 by Luis de Landecho, the brick building once provided power to the surrounding areas
all images courtesy Nigel Young / Foster + Partners
new removable wooden structure
The building, originally constructed in 1905 by architect Luis de Landecho, was used to supply electricity to the entire area. It was then left to decay until ACCIONA bought it in 2017, preventing it from being demolished like other similar structures in the area. The existing load-bearing frame that supports the angled steel trusses is still used to its full advantage. In the meantime, the envelope of the historic building has also been preserved, saving almost 10,000 tons of original bricks and reducing the environmental impact.
Inside the space, the British architecture firm inserted a lightweight structure made from sustainable timber sourced from local forests that allows for spatial flexibility, while also integrating lighting, ventilation and other services. More than 1,600 tonnes of CO2 will be saved thanks to the wooden construction, which is both recyclable and removable. The interior is naturally lit by a central skylight, which minimizes the need for artificial lighting, and uses photovoltaic technologies integrated into the glazing to generate electricity.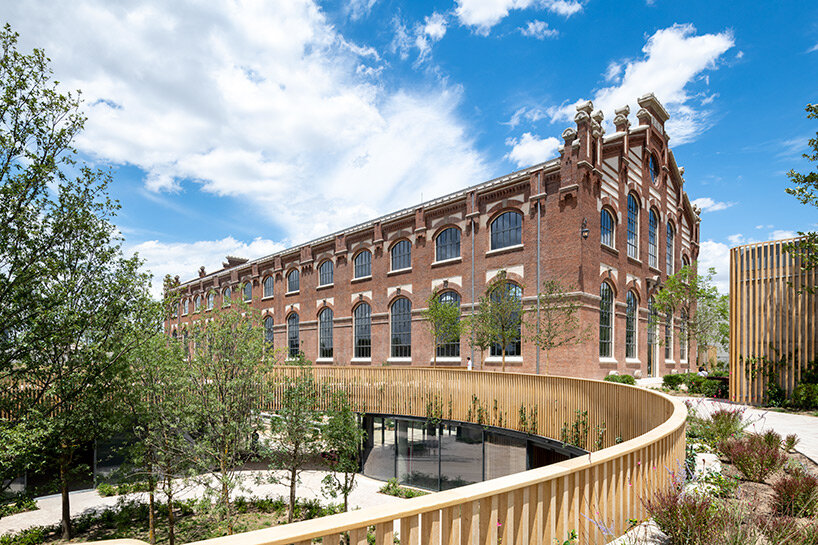 Ombú's environmental impact is compatible with the Paris Agreement's initial 2°C target
green garden with outdoor workspaces
Taking advantage of Madrid's temperate climate, a new biophilic courtyard allows employees to work comfortably outdoors. This newly designed garden has been landscaped with 350 trees and is connected to an extensive 12,400 m² planted park which includes shaded areas for outdoor work and informal meetings. In order to limit the use of water, which will come from local sources, native species have been carefully chosen. By offering connections to the city's rail and bus networks, Ombú was also built to encourage employees to commute using public transport.
'Ombú brings a brownfield site back to a new city garden. Madrid's mild climate allows workspaces to be outdoors as well as indoors, creating a flexible and desirable lifestyle. Natural materials are introduced into the existing building, contributing to biophilic spaces conducive to well-being and productivity. says Norman Foster, founder and executive chairman of Foster + Partners.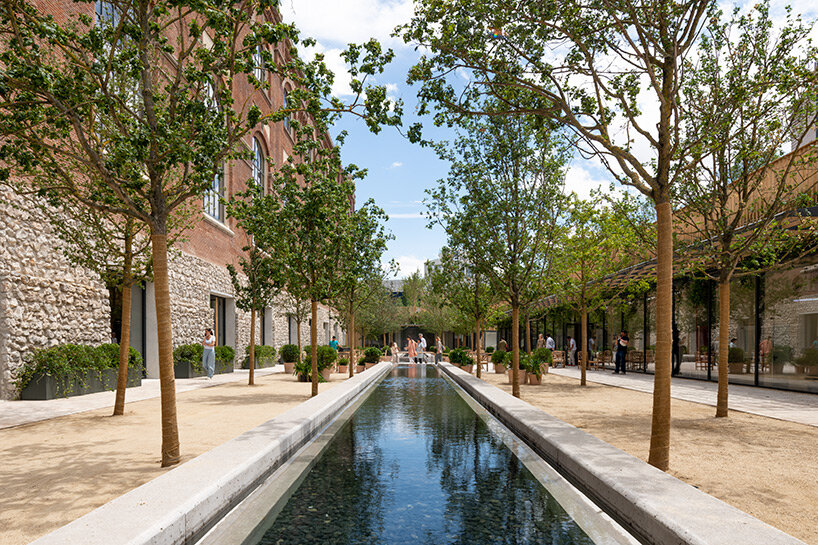 taking advantage of the temperate climate of Madrid, the new courtyard offers the possibility of working comfortably outdoors
1.0 Ecological footprint of the planet
According to Foster + Partners, Ombú has a planetary ecological footprint of 1.0, which means the earth's current capacity is capable of absorbing all of its carbon emissions. As a result, the requirement for a balance between sources and sinks of the Paris Agreement is respected and the environmental impact is in line with the initial objective of +2°C.
"The design reduces embodied carbon by 25% compared to new construction over the life of the project, while accounting for future renovations. Operational energy is calculated at 35% below normal expectations. the studio shares.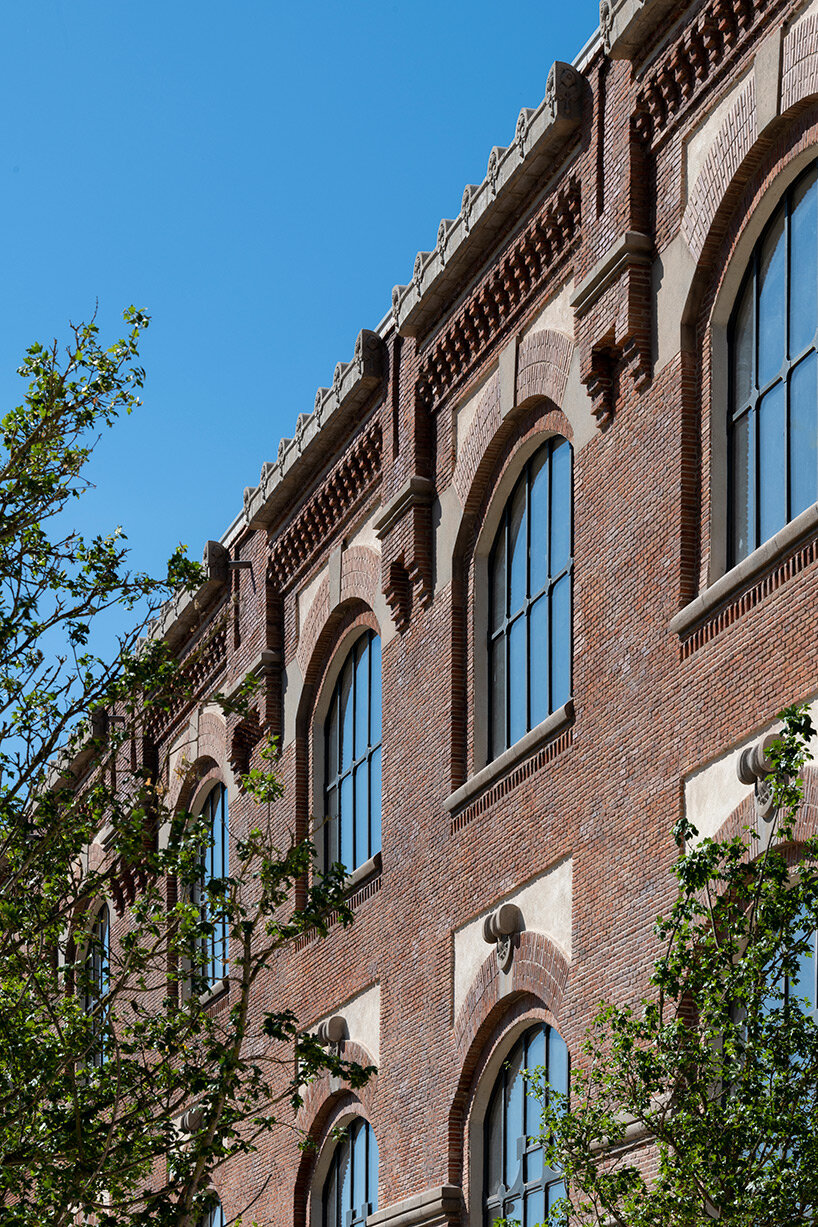 the historic building's shell has been retained to retain tons of original brickwork and lessen environmental impact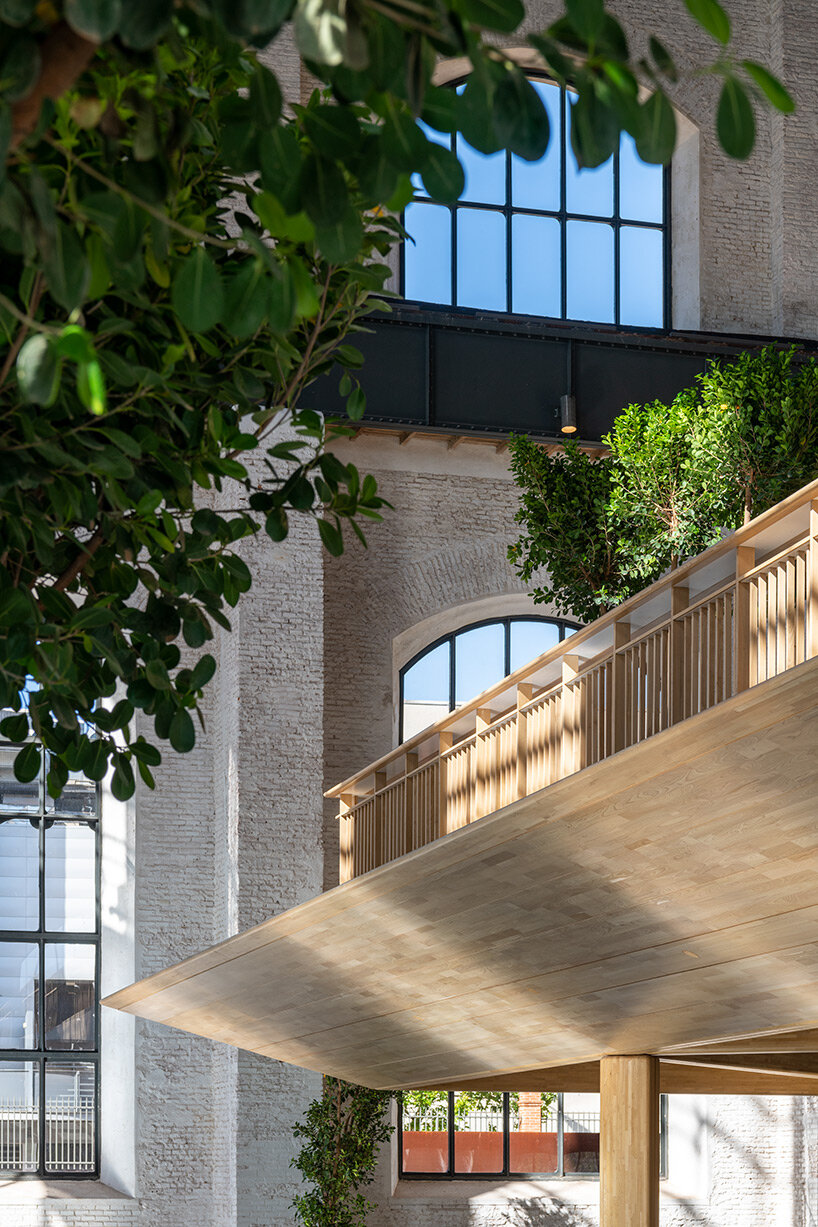 the lightweight structure inserted inside the space is made from sustainably sourced wood from local forests