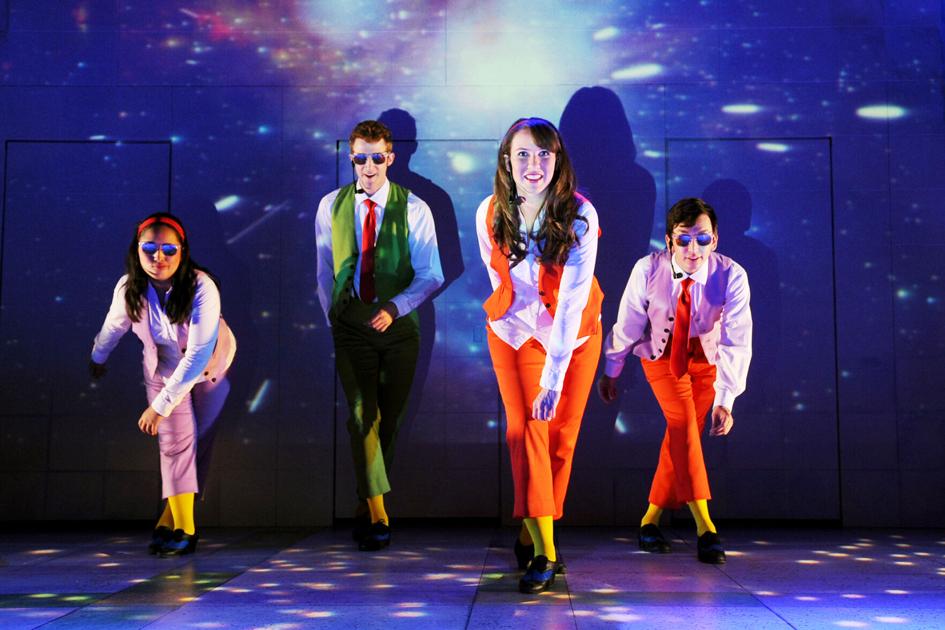 Two updated childhood favorites hit local stages | Lifestyles
UDated versions of two children's classics will take the stage in Joplin and Pittsburg, Kansas next week.
"Schoolhouse Rock Live! – the first performance in Connect2Culture's new Curtains Up series – will take place at 4 p.m. and 7 p.m. on Saturday, November 20, inside the Joplin High School Performing Arts Center.
About 30 miles away, the Midwest Regional Ballet will present "Alice in Wonderland Steampunk," an original concept featuring contemporary aerial artistic dance, at the Memorial Auditorium in Pittsburg for four days. The show will take place at 7:30 p.m. from Thursday, November 18 to Saturday, November 20, with performances at 2 p.m. scheduled for Saturday, November 20 and Sunday, November 21.
Tickets for both stage performances are now on sale.
"The school rock"
Some people may remember lying on a pillow in front of the TV in the early 1970s – when there were only three channels – and stomping on a number of educational tales. animated and catchy lyrics. They might remember some of them: "lolly, lolly, lolly, get your adverbs here", "Interplanet Janet, she's a galaxy girl", "the ride of Paul Revere put the nation on her ear" and "conjunction junction, what is your function?"
"Schoolhouse Rock Live! Reinvents cartoons, which began airing on ABC in 1973, with an energetic performance that includes song, dance and image projections. It is hosted by Childsplay, the Arizona-based national song and dance troupe.
"This is the first time that we have offered a children's theater production and we are extremely excited," said Emily Frankoski, Director of Connect2Culture at Joplin. "This nationally touring show features professional actors who spend hours preparing their series of performances, ensuring audiences see incredible talent and professionalism. We can't wait for families to experience this exciting, fast-paced and interactive show.
"Schoolhouse Rock Live! Is ideal for ages 6 to 10, and the lessons they learn through song and dance can be invaluable, she said.
"The songs of 'Schoolhouse Rock' will live on forever. Not only do they teach you adjectives or how to count from five, but they share important information about women's rights and the inner workings of the legislative process, "Frankoski said. "This information is still vitally important to know today, and the children who participate in it could learn these things for the very first time." For others, the show "has a delightfully nostalgic atmosphere".
The live performance centers on Tom, a young schoolteacher who dreads the first day of school. When he turns on a television to calm his nerves, Tom is visited by three aspects of his personality, reminding him of how much fun learning can be.
Ticket prices range from $ 15 to $ 25 and can be purchased at connect2culture.org, by calling 417-501-5550 and at the door on the day of the concert with an increase of $ 5. Discounts for students, seniors, military veterans and groups are available.
"Alice in Wonderland Steampunk"
Once again, Alice falls into that infamous rabbit hole – but in a way only Kaye Lewis of the Midwest Regional Ballet could imagine.
She envisioned her steampunk version of the Lewis Carroll classic while doing one of the most mundane household chores imaginable.
"I was vacuuming my floors, listening to Queen, thinking how much fun it would be to put on a show to their music," Lewis said. "Then 'Killer Queen' came along, and somehow I thought it would be so cool (to do) a Queen of Hearts dance. Then 'Slightly Mad' came along, and it really clicked (with me) to make the Mad Hatter, and he could be mad inside an asylum "- and from there the music production quickly took off. form.
The show debuted in 2012 and premiered again in 2017. This will be the third time the musical has been performed in front of a live audience. Each time, it's not only one of the Midwest Regional Ballet's most popular shows, but it's also the most requested show.
"I think it's because of the great quality of the music that matches the story," she said. "And who doesn't love Queen?" Everyone – from what I've been told – relates to the story of Alice in Wonderland. My vision is that the show must continue, represent our childhood and want to grow up quickly; the message here is to stay young as long as possible and enjoy the circus of childhood, wonders and fun.
Ainsley Smith will play Alice while David Scheuerman will reprise his role as Mad Hatter.
Ticket prices are $ 12 to $ 15 for floor seats and $ 10 to $ 12 for balcony seats; tickets for children 5 and under are $ 5. Tickets can be purchased at memorialauditorium.org or by calling 620-231-7827.
"I just hope we have a huge crowd," Lewis said. "We miss our people. "