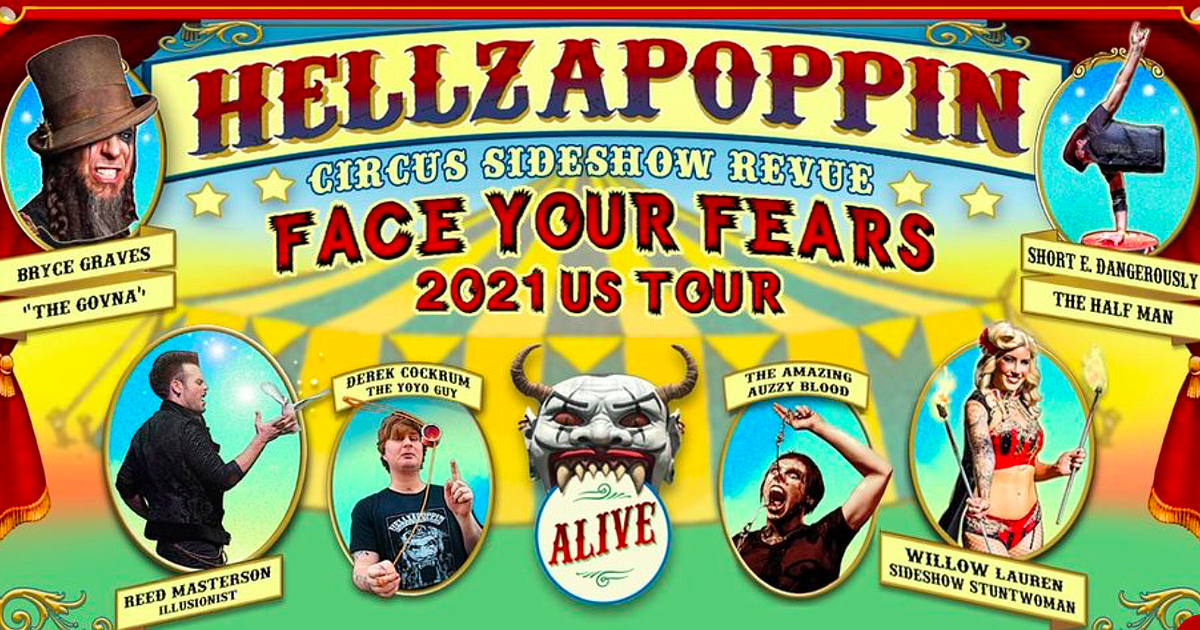 Cavalcade of human curiosities | Coeur d'Alene Press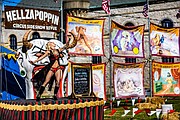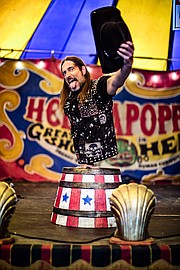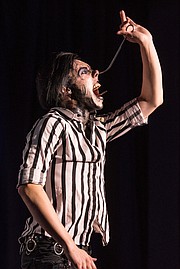 POST FALLS — Want a different experience? "A cavalcade of human curiosities" could arrive just in time.
The Hellzapoppin Circus Sideshow Revue will stop for just one night on Wednesday during its nationwide "Face Your Fears" tour.
Bryce "The Govna '" Graves, 48, premiered the show in 2008. In 2009, they were on tour full time.
Graves is the producer and director. While donning the leader's quintessential top hat, he performs stunts throughout the two-hour performance. His character is "that of a sinister revivalist preacher from the south" with a "gritty" voice with a slight Texan accent.
Graves' grandparents were Vaudevillians. He has studied the entertainment industry since he was a little boy raised in Garland, Texas with his three siblings.
"Hellzapoppin" has nothing to do with religion, Graves said.
"I get this question a lot, but the definition is 'whatever can happen is likely to happen' and that's another word for 'chaos'," Graves said.
Originally a popular Broadway musical in the 1930s and 1940s, it later became a film starring Shemp Howard of the Three Stooges, Ole Oleson and Chip Johnson. It closed during the Great Depression and World War II, Graves said.
While researching "the perfect name" for the series, Graves remembered the movie he had seen dozens of times as a child and found that no one had the name.
"I immediately took off the brand and the website, and the rest is history," he said in a press interview on Monday.
They are "slowly moving towards a complete recreation of the original musical," Graves said. When not on tour, Graves returns home to Old Town, Dixie County, "in the middle of nowhere in Florida."
Featuring a wide array of unique performers, the acts include stunts, aerial arts, magic, loud rock music, and plenty of strobe lights.
Willow Lauren is co-producing the show and performing. Aerial artist, illusionist, and stuntwoman, Lauren performs fire-breathing, eats and regurgitates razor blades (hey, we warned you this was no ordinary show) and attends stunts from other performers. One act features fearless Lauren standing as Graves throws "sharp" knives that land around her body.
Auzzy Blood joined Cirque du Soleil's Hellzapoppin in Las Vegas.
Short E. Dangerously is a tall figure in a small 3'3 "frame and has his hands where his feet would be. Performs dangerously stunts like stepping on shards of broken glass and fire with his bare hands.
After visiting New Zealand, Brazil, Venezuela, Europe, Australia, Canada and the United States, his work is so well known that it is presented in Ripley's Believe It or Not Museums under wax replica form. He is also in Ripley's 2017 and 2020 books.
The cast also includes Derek "The Hurricane" Cockrum, who is considered one of the best Yo-Yo artists in the world, and award-winning magician and illusionist Reed Masterson.
Giving up to 200 performances a year is truly a life on the road. Traveling in campervans equipped with bunk beds, full kitchens and bathrooms, the troop typically travel to a different town each evening.
"We load our sites at 2 pm every day. It takes a few hours to prepare for the show, then we all have dinner, take a shower, and put on our costumes, "Graves said. "Immediately after the show, we take everything apart and load the trailers. We are on the road to the next town at 1 a.m. and sleep overnight in the car.
"This lifestyle is definitely not for everyone – it takes a special person to do what we do."
Fourteen hour days are typical as they travel with two drivers and two stage crew members.
Graves works with around 30 artists in total and runs them, with five or six on each tour. They perform in small theaters, concert halls and sometimes nightclubs. Their very first performance was the opening act for musician Marylin Manson in Sweden.
Graves has a long history of working with artists after leading rock bands, TV personalities and circus performers for 13 years before creating Hellzapoppin.
"We've traveled all over the world with some of the biggest groups," Graves said. "We have given over 2,000 shows and work with the best artists in the world. "
Wednesday's show is designed for viewers 18 and over, but Graves said they "love it when the kids come too."
"Kids are the best crowd to play," said Graves. "When we present shows for all ages, we soften it up a bit, especially the language," Graves said. "The spectacle can be extreme for some."
Wednesday's show begins at 7 p.m. at the Cruiser's Bar and Grille, 6105 W. Seltice Way in Post Falls. General admission is $ 20; reserved spaces are $ 30. Doors open at 6 p.m.
Tickets can be purchased at hellzapoppin.com.