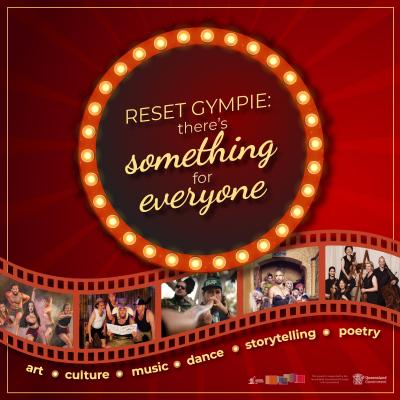 RESET continues to entertain in September
Gympie's RESET Gympie Regional Council's arts and culture program is packed with events in September, bringing together an incredible assortment of talented handpicked artists from across Australia, destined to entertain and inspire audiences of all stripes.
The program includes performances of music, dance, storytelling, poetry, art and culture.
In September, several events take place as part of RESET, including the official opening of the creative space and gallery, Story Vessels – 'Boundaries' – Lines – Between – Apart, OKA – Live and Local Music Series, Provoked – art response to the company and Briefs Factory International presents – Dirty laundry.
"Creative space and gallery – Opening"
On Saturday September 4 from 6 p.m. to 10 p.m., Creative Arts Gympie region opens its new creative space and gallery at 39 Monkland Street, Gympie.
This free event is a great opportunity to come together and celebrate an exciting new space dedicated to creatives from the Gympie region.
Along with the unveiling of the new creative space, there will be music, free drinks and finger foods available. Registration is compulsory.
"Vessels of history -" Limits "- Lines – Between – Apart"
Story Vessels – 'Boundaries' Lines – Between – Apart will be exhibited at the Gympie Regional Gallery from Thursday September 9 to Saturday October 2.
This amazing exhibit explores the concept of how society's perception of "borders" has changed since COVID-19. Everything from our movement, our work patterns, our social interactions and the role of "home" has changed in one way or another.
The idea of ​​drawing boundaries is both aggressive and protective, in the sense that we seek the comfort of safety and belonging.
This exhibition explores the ways in which we "mark" a border and the physical experience of crossing that border.
Among other works, a slideshow of photos illustrating different types of borders and objects will be projected on the walls.
These photos will have been taken in the Gympie region by members of the Gympie Camera Club.
This exhibit is developed by venue creation professionals Samantha Taylor and Miles Allen of Projects Fort Awesome and is supported by the Government of Queensland through Arts Queensland.
Admission to the Gympie Regional Gallery at 39 Nash Street is free, with opening hours from 10 a.m. to 4 p.m. Tuesday through Saturday.
'OKA – Live and Local Music Series'
OKA will present its exciting music mix at the Pavilion on Friday September 10th from 7pm to 9.30pm.
OKA draws on their indigenous connection to place and country to create their Australian land sound of well-being, which is an irresistible blend of influences spanning house, big beat, reggae-dub, roots, jazz. and world music.
This is a must see event filled with an impressive mix of culture, dance and spirit; all marinated in an eclectic mix of musical genres.
Tickets cost $ 22 for general admission and $ 18 for the student concession. A bar will be available.
"Provoked – the response of art to society"
Come participate in a stimulating and informative discussion in the Creative Space of the Creative Arts Gympie Region at 39 Monkland Street Gympie on Thursday September 16 from 6 to 8 p.m.
Meet academics, activists and artists and discuss the role of art in society.
Tickets are $ 22 for general admission and $ 15 for Creative Arts Gympie Region members. A bar and food will be available.
'Briefs Factory International Presents – Dirty Laundry'
Meet at the Pavilion on Saturday, September 25 from 7:30 p.m. to 9 p.m. for an extravagant evening of disco dancing, circus and burlesque as Briefs Factory International presents Dirty Laundry.
This must-see event features intoxicating physicality, jaw-dropping comedy, shameless truths, and ridiculous staging by a cult of cabaret hooligans bending the genre.
Tickets cost $ 50 for general admission and $ 45 for the concession. A bar will be available.
RESET Gympie is supported by the Government of Queensland through Arts Queensland.