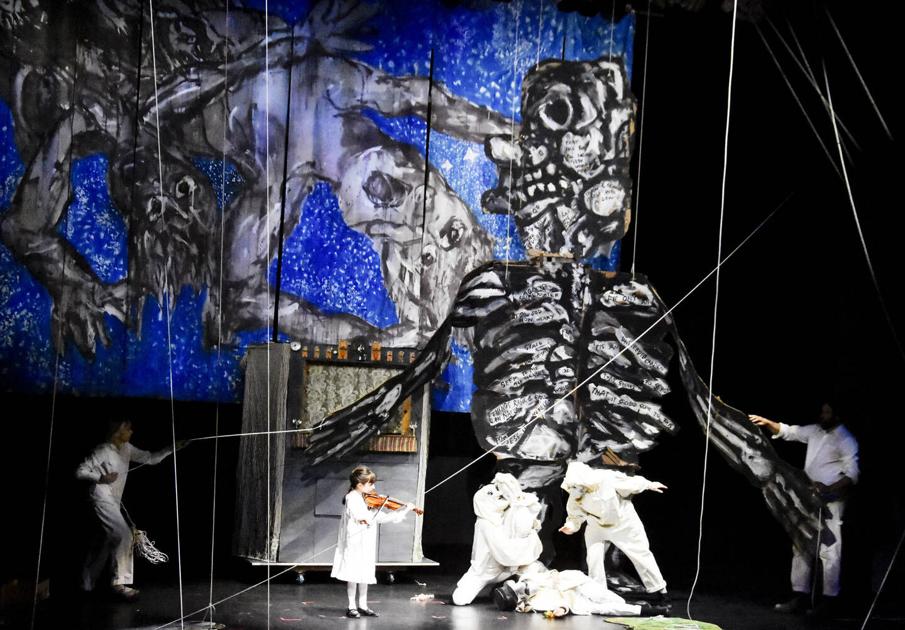 Creatives and COVID: Amelia Castillo | Entertainment
Creatives & COVID is an ongoing series where members of the local arts industry discuss the pandemic, its impacts, and how they have adapted. The series shines a light on how musicians, artists and visual artists in the northeastern and northern kingdom went through a year when the arts industry – which depends on bringing people together – was shut down by COVID -19.
This week, Amelia Castillo, 32, a veteran performer of Glover's Bread and Puppet Theater, talks about the impact of COVID on the internationally acclaimed company.
Founded in 1963, Bread and Puppet has been based in the North East Kingdom since the early 1970s. It is one of the oldest non-profit political theater companies in the country.
When the pandemic hit, what did the Bread and Puppet Theater have in store, planning or planning for the year ahead?
The pandemic struck while we were on the road, two weeks after a three month long tour of the United States. We turned around and headed home. We have canceled our spring residency as well as our summer apprenticeship program. We were able to have our summer season of shows – outdoor, socially distant circuses for an audience of 150 people. We also did a short tour in early fall – again all outdoor shows, with social distancing and small audiences. We had to cancel a longer tour in New Orleans in late fall, as well as our traditional New York residence in December. We have also canceled a national tour scheduled for spring 2021.
How has COVID had an artistic and financial impact on the Bread and Puppet Theater?
Our summer season has always been done by donation – whoever wanted to come has just introduced himself. Because we could only accommodate 150 people and we had to contact trace and book these spaces, for the first time we started issuing tickets. Normally we would play a small indoor show on Friday, and a circus and outdoor show on Sunday. Because of the pandemic, we only did the circus three days a week. We canceled the apprenticeship program, as well as our longer tours, both of which represent a significant portion of our revenue.
How did Bread and Puppet adapt?
Over the years, Bread and Puppet has boasted of being a stand-alone theater. We survive through our shows, learning program, donations, and sales of posters, banners, books and other B&P Press publications. In 2020, we had to review these practices and positions. We have applied for emergency funding from PPP and the Vermont Council for the Arts. We have also significantly developed the B&P Press online store, which has enabled us to better support ourselves. We consulted with healthcare professionals and organizations, and with a lot of effort we were able to craft a socially remote system to welcome the public in a way that felt safe.
Has COVID provided or created opportunities for Bread and Puppet to grow or evolve as an arts organization?
Because we had to cancel our tours, we were able to perform more regularly in Vermont. We were also more available to support local organizations and strengthen relationships that are important to us, such as with Migrant Justice / Justicia Migrante, and other local activist and community groups. Before the Stay-At-Home Ordinance went into effect in March 2020, we set up a little circus and performed it in the aisles of friends and neighbors. This spring we organized a series of short shows and performed them in the parking lots around the NEK. We felt it was important to be here in Vermont to support NEK rallies, parades and events.
Will the COVID changes be permanent?
The B&P Press online store now accounts for a larger portion of our revenue, and we hope it will continue to do so. In addition, some of our committee meetings will likely continue to be online, to accommodate our large community.
Now that we are approaching a time when (hopefully) restrictions will be relaxed and the arts sector will return, what are your plans? Does Bread and Puppet have anything in store or planned?
At the beginning of June, we will start a new collaboration at the Bread and Puppet farm. The show will be an adaptation of the Persians, a tragedy by Aeschylus and the oldest play in Western literature. Along with the formidable cast of performers from Bread & Puppet, collaborators will include Idith Korman, Damian Norfleet and Neta Rudich (Ensemble Pi), Melanie Henley Heyn (soprano), Gideon Crevoshay (Tenores de Aterúe), Tomas Majcherski (Tranqwild) and John Bell (Ballard Institute and Puppet Museum). The show will play on June 11, 12 and 13.
Bread and Puppet will also be performing Our Domestic Resurrection Circus every Saturday and Sunday at 4 p.m. from July 10 to August 29.
COVID influenced art: yes or no?
For you, when will be the moment when you say "OK, it's over?"
When we can stay overnight with friends and community members in cities across the country and around the world where we tour.