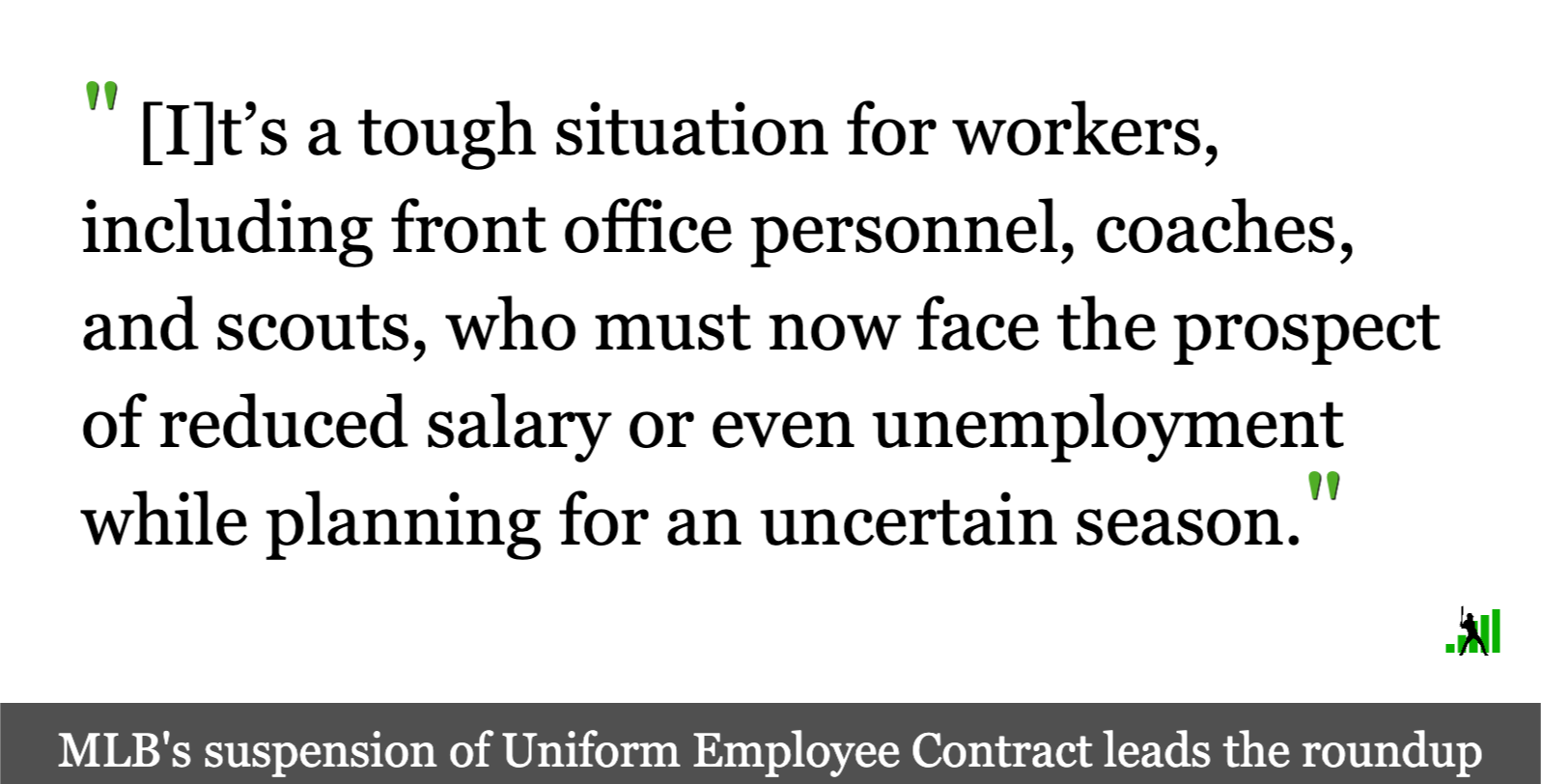 COVID 19 Summary: Team Employees' Contracts Suspended
This is the latest installment in a series in which the staff at FanGraphs summarize the latest developments regarding the effect of the COVID-19 virus on baseball.
Baseball invokes the provisions of the UEC contract
Through a report by Ken Rosenthal, Major League Baseball will invoke a force majeure provision in the Uniform Employee Agreement signed by all non-playing staff on May 1. The provision allows for the suspension of contracts in extraordinary circumstances. The provision has been available to teams since the declaration of the national state of emergency on March 13, but had so far not been used.
The consequences of this decision are not yet known. Teams can do everything from leaving everything as is to putting all of their non-player workers on leave, although health care benefits remain the same. Yet even if the teams do not act immediately, it is a difficult situation for workers, including front office staff, coaches and scouts, who now face the prospect of a pay cut. or even unemployment while planning an uncertain season. (Non-playing staff are not unionized.)
The Braves, Giants and Phillies have already pledged to pay their employees until May 31. Other teams will surely follow. But it's hard to read this move as anything other than a bargaining chip for teams. With the specter of unemployment hanging over them, employees may be more inclined to change the terms of their contracts. The Players' Association has already reached a deal with MLB on shortened season pay changes, and it looks like non-playing employees may soon have to do the same.
KBO sets opening day
The Korean Baseball Organization is set to become the second professional league in the world to resume baseball on May 1. An official announcement is expected today. South Korea has so far succeeded in flatten the curve – they only had eight new cases and two new deaths on Friday, the last day of notification.
Matches will be very different from before – no fans will be allowed in the stands and some players have mixed up masks during spring training. The country has been at the forefront of efforts to fight COVID, and their return to sport is an encouraging sign. At the same time, it's not business as usual, a sobering reminder that the next step after taking shelter in place is not an exact return to the way things used to be. before. If you'd like to learn more about the KBO, Jay Jaffe wrote a primer for the season which features interviews with three members of the front office.
NPB indefinitely postpones
Across the Sea of ​​Japan, things are not going so well. NPB again postponed the start of his season last week, with no fixed date. Japan is still on the steep part of the curve, facing a near-logarithmic increase in cases over the past month. This sharp increase is beginning to overwhelm the health system; the country faces a severe shortage of medical equipment at present.
The differing fortunes of the two countries show just how unpredictable this season will be. South Korea was hit hard at the start of the global spread of COVID, while Japan was relatively spared. But different disease control strategies have reversed their fate. The same bifurcation could easily take place in the United States; some cities and states may remain in the throes of the disease while others approach recovery. This is yet another reason why the season, if it does happen, will likely involve many teams playing together in a neutral location.
Golf wants all the tests
The PGA Tour has released an updated schedule with 14 events taking place on or before September 7th. To complete this ambitious schedule, they would have planned to use approximately 1 million COVID tests to ensure the safety of players, caddies and event staff.
The scale of the tests that will be required to play golf tournaments underscores the extreme difficulty of resuming the baseball season. Golf tournaments have between 700 and 800 people on site to set up the tournament and around 100 players per event. Baseball would need many multiples of this, and it would be played almost every day, not four days every two weeks. A massive expansion of test production is a prerequisite for any season.
Indy, the delayed summer leagues
The Northwoods League, a summer wood-batting league for college players, delayed the start of his season Friday. Many of the league's teams are in states with foreclosure orders; the press release specifically mentions Wisconsin, but Minnesota and Michigan are also subject to stay-at-home orders, and it would not be surprising to see those extended beyond May 26, the original start date of the league.
Independent leagues are also delaying their seasons. The Pecos League announcement that he will indefinitely delay his scheduled start date of May 27 and look to play half a season when play resumes. The league is spread across six states, making coordination difficult. As the league stated in its press release, "There are 12 cities in the Pecos League and there are 12 different opinions, two of the cities said no baseball in 2020. We will adjust and if possible play a 48-game season starting July 1. "
The ace of the Dodgers talked to Arash Markazi about staying prepared during an indefinite layout and his views on the resumption of the season. Like many players with families, he feels the conflicting attractions of wanting to play baseball and wanting to stay with loved ones. Kershaw and his wife have three young children, and he is unwilling to isolate himself from his family for a shortened season played in quarantine.
Kershaw isn't the average player, but his fate mirrors that many big leagues face. Coming back to the field is incredibly tempting; most have done nothing but play baseball their entire adult life and would like nothing more than to get back to their routine. But playing games in foreclosure Arizona would be anything but routine, and voluntarily separating from your family during a crisis is a huge price to pay. Kershaw is siding with the family, and it's easy to imagine that many players could do the same. Unless MLB can come up with a plan for families to quarantine themselves with players, MLBPA will have a divided constituency when it comes to whether or not to play.